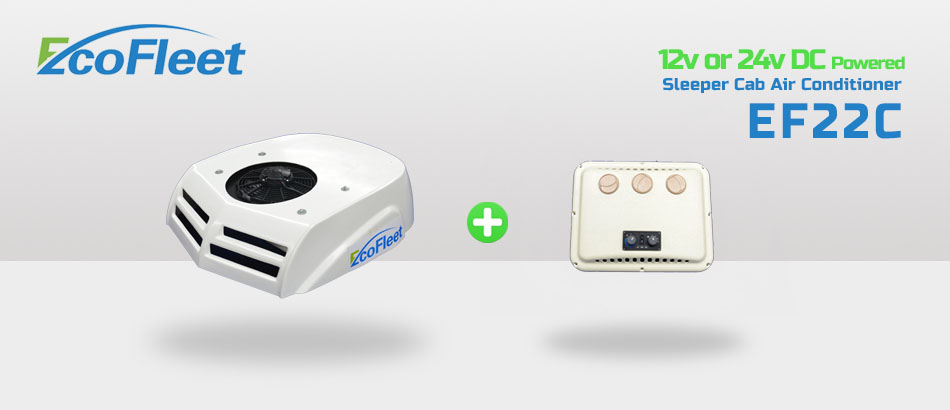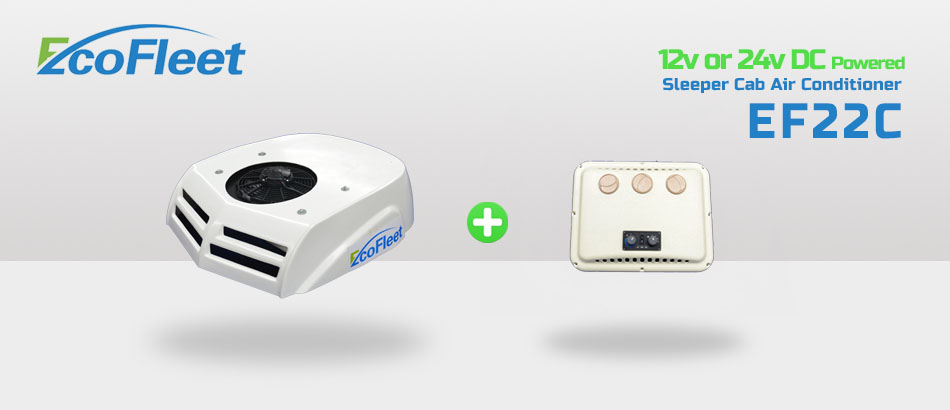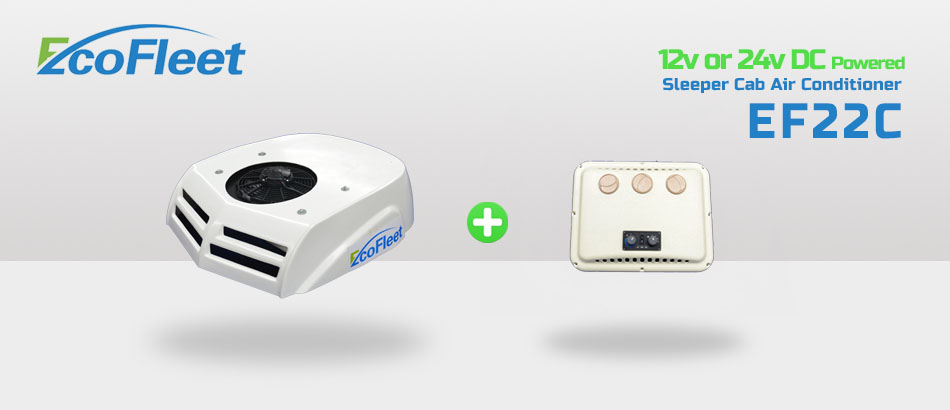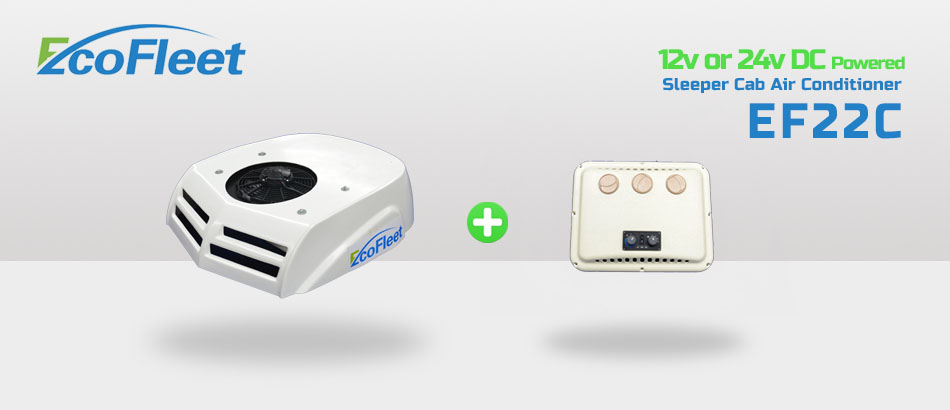 Overview
Features
Specification
Download
Online Inquiry
EcoFleet EF22C Rooftop Unitary Air Conditioner is a high performance complete roof mount air conditioning system with tough external and internal construction, providing up to 7,500 Btu cooling capacity. The cooling power is regulated automatically with minimum consumption. These systems are exclusively designed for all types of mobile equipment.

The EF22C rooftop unitary systems are the perfect solution for overnight rest in the truck cabin. and can also be used to maintain unloading operations, compulsory stoppage periods or when resting, sleeping, etc.


Our EF22C rooftop unitary systems are robust and reliable and ideal for use on variety vehicles such as sleeper cabs, off-road vehicles, agricultural vehicles, ATV's, ambulances, firetrucks, TBL vehicles, airport ground service vehicles, and others.
1.Small size and flat structure, the ideal for mounting on the roof of the truck and can be well matched with the truck cab.

2.Safety, EF22C Rooftop Unitary A/C operates with windows closed, minimized the risk of theft and supporting the driver's safety during driver rests.

3.Quietness and less vibrations, the highly efficient 12V or 24 V brushless direct current compressor has much higher degree of both safety and quietness compared with 115v or 230v compressors with inverter.

4.Comfort, EF22C Rooftop Unitary A/C keeps the cabin climate healthy working as well as a dehumidifier.

5.Zero Maintenance, the refined Ecofleet technology needs no maintenance. Workers without refilling of water.

6.Wellness, powerful and silent, comfortable rest, reducing stress and tiredness and consequently risks of accidents on the road.

7.Fuel saving, no engine required, thus reduced diesel consumption by as much as 3,000 gallons per year. As well as reduced engine wear and tear and other related maintenance costs.

8.Truck main batteries protected, Ecofleet systems come with a battery protection switch that automatically shuts off the Air Conditioner at 21.5 voltage, ensuring that your drivers will always have plenty of power to turn over their truck's engines.

9.Environment friendly, 100% environmentally friendly, working engine-OFF by preventing atmospheric emissions of CO2.

10.Easy installation, models are sold in ready-to-fit kits, easy and quick installation through the roof on most trucks, with installation and operating manuals clear and detailed.
Model

EF22C Rooftop Unitary Air Conditioner

Cooling capacity

2.0--2.2 KW

6824-7506 BTU/H

1720-1892 Kcal/h

Refrigerant gas

R134A

Voltage

DC 12V/24V

Compressor

Brushless DC electrical compressor

Condenser air

≧1800 m³/h

Cooling air

≧700 m³/h

Fan speed

3 speed

Max. current

12V 62.1A




24V 42.3A

Working current

12V 52A




24V 35A

Total Weight

24.1 kg

Ac size

856*745*220mm

Package size

900*800*365mm

Connecting pipes

Rubber hose with crimp connectors And Cooper Pipe

Shut-off voltage

21.5V/10.5V

Cabin

4-5 seats cabin
Leave Messages Please Feel free to give your inquiry in the form below.We will reply you in 24 hours.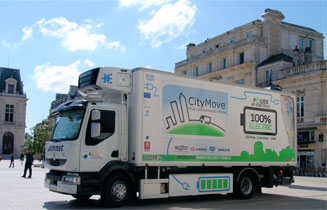 Spare parts
Additional and Spare Items From Ecofleet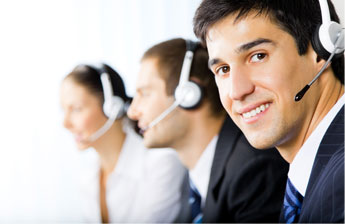 contact us
Tel :0086-21-51212197
Email :info@ecofleetcooling.com